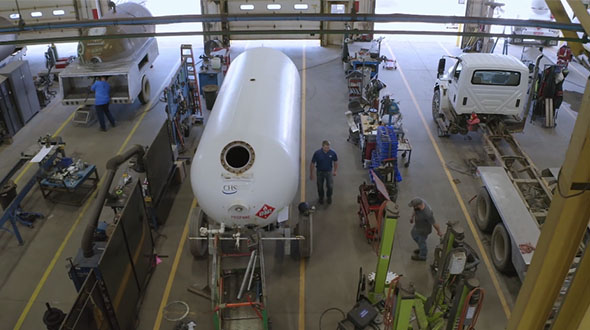 Trucks: Supply chain disruptions extend delivery times and increase prices
For propane truck manufacturers and the merchants they serve, the unpredictable has become familiar.
Two years after the COVID-19 pandemic triggered supply chain disruptions in the automotive industry, Mike VanDenBoom, president of Signature Truck Systemssays he's almost gotten used to the delays.
"We're getting numb," he says when asked which truck parts have been the hardest to find. "We expect to probably have delays and we just bought everything we touch."
He spends a lot more time on the phone with suppliers these days to assess when materials will arrive at his facilities and anticipate shortages. But the schedules are difficult to predict.
"In the past, we would receive an order and I could, at that time, roughly estimate when we could complete it based on previous delivery times," says VanDenBoom. "Today we might get the order, then we'll have to research with certainty how long it will take to get the components, then establish a completion date, and then communicate that to the customer."
Maintaining a consistent workflow under uncertainty means having more inventory and following flexible construction schedules that take into account the expected arrival date of different parts. Although lead times vary widely by component, VanDenBoom has made it a mantra to be prepared to wait twice as long for parts: "We use this thought process every day as we need to order parts and increase our inventory."
He estimates that stocks are 20-30% above normal for this time of year.
Uncertainty about when and what materials will be delayed also complicates inventory and production schedules for Westmor Industries, explains Jason Soulon, Director of Sales. Every day, delays can affect many different parts, from chassis to meters to hose reels.
To compensate, the company holds more inventory, but these warehouse commitments require more capital.
"We have increased our commitments for chassis, raw materials and equipment to provide larger buffers in our production schedule, but demand still exceeds supply," says Soulon.
Chassis problem
Propane truck manufacturers agree: Of the many parts and components delayed by supply chain issues, extended lead times on the chassis cause the most problems. They hear from chassis manufacturers that a shortage of microchips is expected to persist for the foreseeable future, limiting chassis supply.
At Signature Trucks, VanDenBoom sees improved lead times on some truck parts, but can't say the same for chassis: "In the case of chassis, it's not improving at all. The chassis are still 12 to 18 months ahead.
Fisk tank carrier, which builds custom trucks and trailers, requires different frame sizes for different models. Still, chassis makers like Ford, Dodge and Chevy haven't been able to confirm what size chassis they will ship to fulfill Fisk's orders, said Nathan Roberts, president of Fisk.
Without knowing what frame size will be available, he can't predict which models to build, making it harder to sell the units, he adds.
Roberts says he doesn't expect the situation to improve this year, so he's planning 18 months to ensure adequate supplies.
Westmor had to get creative to deal with the shortage, Soulon says. It buys chassis from more truck dealers than usual and has introduced new products to help dealers avoid the long wait, including a chassisless trailer that can be attached to a dealer's existing chassis assets.
By the end of April, Westmor had sold all of its chassis and was selling them next year, says Mandi Carlberg, marketing communications manager.
Volatile prices
And it's not just the chassis. Supply chain disruptions in many industries are delaying deliveries and increasing prices for raw materials and automotive components across the board.
Whereas H&H Sales Co. has ensured a steady supply of steel and aluminum, prices are high and change frequently, says company president Philip Randall.
"If you get a quote for aluminum or steel products that we use in our manufacturing, you're lucky to get a week out of it," he says. "You'd better order it in a week, otherwise you'll have to re-quote."
Randall sees similarly volatile prices for petroleum-based products such as tubing, mud flaps and fenders.
He says raw material prices have more than doubled for some of the products H&H Sales manufactures, and when price increases cannot be absorbed, the customer can see a price increase of 25-35%.
Like H&H Sales, Signature Truck was unaffected by steel and aluminum shortages, but had to pass on higher prices to customers.
"The end user is feeling the pain of the price increase the most," VanDenBoom reports.
Plan ahead
Randall says he doesn't expect the supply disruptions to end for another 12 to 18 months, to give a rough estimate.
Over the next 12 months, Randall and VanDenBoom expect marketers to request more maintenance and repair work on older trucks to avoid a price premium on new trucks or to ensure that they have a usable vehicle immediately, instead of waiting a year or more for a new model.
Still, some tradesmen will find they need a new truck regardless.
"If you can find a truck, you should buy it," says VanDenBoom. "Because there aren't a lot of options open. Inventory is low for new trucks. »
VanDenBoom recommends that marketers allow 1.5 to 2 years to anticipate their fleet needs and start planning for those needs now.
---
Watchlist
Some of the raw materials and components for which propane truck manufacturers are reporting supply shortages or high prices include:
Aluminum
Axles
Frame
Mudguard
Hose reels
Hydraulic
Meters
Mudguards
Steel
Tires
tubing
Winches
---
From point A to point B
Considering the long lead times for propane trucks, there are delays in getting a completed, and often paid, truck from the manufacturing site to the distributor's location.
Drive-thru companies that typically handle transportation are experiencing driver shortages, resulting in long waits for truck deliveries, says Mike VanDenBoom, president of Signature Truck Systems.
"Sometimes we have trucks finished and sitting in a yard for four months waiting for a driver to come and pick it up," he says.
These drive-away companies also handle the title process and vehicle license plates, so Department of Motor Vehicles backups contribute to the problem.
VanDenBoom says Signature Trucks has three haul trailers on the road.
"Our drivers are very busy delivering new trucks, but our drivers aren't going through this authorization process," he explains.