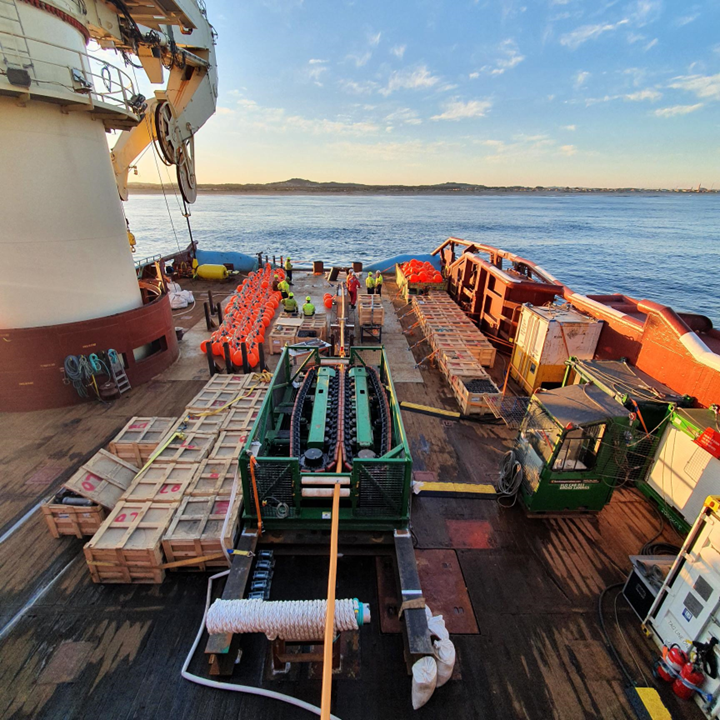 CorPower Ocean and Maersk Supply Service install submarine export cable for wave energy project in
[ad_1]
CorPower Ocean, a Swedish developer of wave energy converters, and Danish offshore shipowner Maersk Supply Service have installed a 6.2km submarine export cable off the coast of northern Portugal to boost the project HiWave-5 from CorPower Ocean.
The 100 tonne cable was installed using the Maersk Achiever vessel and will provide power and data connection from an onshore substation in Aguçadoura to the wave energy demonstration site 5.5km offshore .
Now connected to Portugal's national grid, the site will initially host the recently unveiled CorPower C4 Wave Energy Converter (WEC), later part of a larger four-system grid, and "one of world's first grid-connected wave farms."
CorPower Marine Ocean Operations Manager Robert Argo said, "We started the [cable] installation process by positioning the Maersk Achiever at a safe water depth in the cable corridor, approximately one kilometer offshore. A messenger line was passed from a land winch to the Maersk Achiever and then connected to a cable pulling head.
"As the cable was deployed, a buoyancy was attached to help the cable float on shore. Once ashore, the cable was pulled through a pre-installed cable conduit running under the beach and into the shore substation , while the remaining cable was deployed using an on-board cable tensioner."
"During the laying operation, cable protection was added to provide additional mass where needed for stability on the bottom. Various parameters were also monitored throughout, including cable tension, departure angle of the cable and monitoring of the landing.At the end, a visual and positioning survey was carried out by a remotely operated vehicle.Credit: CorPower Ocean
"The cable laying process is a notoriously challenging aspect for marine energy projects, with a great deal of planning required and adaptation to weather windows and ocean conditions. We are grateful to our very diligent and professional partners, including Maersk Supply Service, for their close support throughout the operation.
CorPower is now preparing for the arrival of the C4 PTO (Power Take Off) system, which has completed a year-long dry test program in Sweden. Once transported, the PTO will be integrated into a composite hull, which has been custom built at CorPower Ocean's Portuguese base in Viana do Castelo, home to its innovative composite hull development program.
The CorPower C4 WEC will then be fused to the cable via a quick connect interface located at the anchor head. As well as providing an electrical connection to feed electricity ashore via the 7.2 kV cable, it will also provide high-speed communication to the wave farm via fiber optic cores.
CorePower wave energy converters are of the point absorber type, with a buoy on the surface that absorbs ocean wave energy and is attached to the seabed with a taut mooring line. The device oscillates in resonance with the incoming waves, amplifying movement and power capture.
[ad_2]
Source link