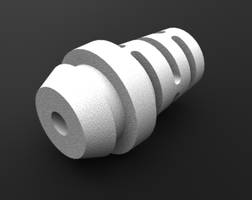 Conical Strain Relief Solutions for Custom Products
ISC has improved our standard and made-to-order molded strain reliefs by incorporating a tapered front section. Standard strain reliefs are molded with flexible PVC material, other thermoplastic materials are available such as polyurethane and TPE. The addition of a cone allows for easier insertion with plastic enclosures for electronics, medical devices and other custom products. As a value-added part, strain reliefs are an essential part of improving and extending the life of your product.
ISC offers an extensive collection of standard, ready-to-use molded strain relief solutions to enhance your product. With over thousands of configurations, we are able to create the molded strain relief you need. Additionally, ISC is able to overmold any strain relief directly onto a piece of cable, or even your custom cable assembly to improve flex relief. When combined with a mechanical device under the overmolding, the value of the tensile force is greatly increased and helps to ensure that the vital connections inside the housing are not disturbed.
If you would like to learn more about the ISC collection of standard, ready-to-use and custom molded cable ties. Please contact one of our sales engineers or visit our website www.iscengineering.com
Kyle Burk
(909) 203-1143
Rich Fierro
(909) 203-1109
Contact this company
More Electrical equipment and systems